Media
Gear Steel Buildings have enjoyed some excellent positive media recently.

---
Tauranga couple build house out of steel
Michele McPherson | Tuesday, June 7, 2011 10:35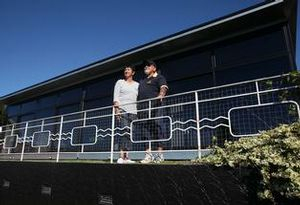 When plans for apartments at their Pillans Point property fell through, Tom and Mary Gear decided to build an earthquake-resistant home - made out of steel.

The Tauranga couple have lived inside their Maxwells Rd home since its construction in November and couldn't be happier.

A three-level apartment complex was to be built on the site, "but then the recession hit," Ms Gear said. "The economy started going backwards."

Mr Gear said the proposed apartments were left up in the air after a buyer walked away.

Having already pulled down the old house on the property, the couple was wondering what to do with the site when their son Brent Gear came up with an idea.

"Before Brent came up with the idea we thought to ourselves 'should we do something different with this site', then blow me down he says he will build us a house out of steel," Mr Gear said.

Brent Gear runs Gear NZ Homes and is an engineer and welder, and has had the idea to design a house out of steel for some time.

His parents were all for it, particularly in light of the tragic Christchurch and Japan earthquakes.

"If you have a look at most architects around the world now, they are saying the old bricks and mortar are no good in an earthquake," Mr Gear said.

"These partitions, they won't come down. They might twist and bend but they will stay together. This is structure steel. That is what we liked about it."

The strength of the steel is of Earthquake A grading, meaning it can withstand the stress given during the significantly large earthquakes, Brent Gear said.

"Christchurch was an Earthquake B, so that gives you some idea."

The 15m by 6.3m one-bedroom home was constructed entirely out of steel except for toughened glass on each side of the living area, and walls made from aluminum cladding.

Large panes of the tinted glass offer stunning views of the Otumoetai causeway and Tauranga Harbour.

The strength of the steel meant the building required just eight piles - instead of about 50 that would be standard for a regular home, Brent Gear said.

The home is also built in such a way that it would only require a few un-boltings to allow the house to be lifted up and put on the back of a truck and moved.

"It hasn't been done before in that sort of system, now everyone is showing interest so we put a patent on it - that's happening right now," Brent Gear said.

The Gears did not want to say exactly how much they paid for the house, but said it was between the $195,000-$235,000 mark.

Brent Gear said he was already in the process of constructing steel buildings for local companies, and a large buyer from the South Island had also shown interest.

Brent Gear also worked on the construction of Tauranga Harbour Bridge for two years.

Earlier this month the Bay of Plenty Times Weekend reported on a $1 million home that will be built at Welcome Bay as an earthquake-proof house.

The building will be made out of shipping containers by Tauranga-based business Earthcube.
NZ patent Nos. 591121 & 597516, and PCT Application No. 20012/000015. (c) Copyright Gear Steel Buildings Limited. Gear Steel Buildings, the Fern logo and CURVE device are trade marks owned by Gear Steel buildings Limited. All Rights Reserved.
Copyright © 2011 - 2021 Gear Steel Buildings. All rights reserved.
Sister company Gear Welding Services
Website Design by MOCA | Privacy Policy | Sites of Interest | Site Map | Login